---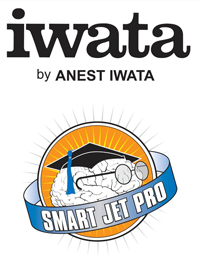 The updated Smart Jet Pro is the same great compressor with the same power - but a more compact size. This compressor is perfect for the occasional and professional artist doing general airbrush applications. It's powerful, compact, reliable, and quiet.

Iwata Studio Series compressors are powerful, compact, and quiet. With oil-less piston motors, they are low maintenance and affordably priced. The Iwata Studio Series are the perfect companion to any of the Iwata airbrushes.

Built with Iwata's Smart Technology, it automatically turns the compressor on when you press your airbrush trigger, providing instant air at the pressure you have set it, and turns the compressor off again when the airbrush is not in use.

Like all Iwata Studio Series compressors, the Smart Jet Pro comes complete with an air hose and adapters so it can hook up to any brand of airbrush.

The smaller Smart Jet Pro's new features:

Smaller size compressor case: L 25.7 x W 14 x H 24.1 cm (approx. excluding handle and fittings)
Lighter Weight: 5.6kg
Access holes in compressor case allow users to more easily change the intake filters without having to remove the case adding to ease of maintenance.
Relocated air outlet
A new style of filter/regulator (the same as the Smart Jet Plus Handle-Tank compressor)
Updates to case label and carton artwork.
Revised included accessories are more beneficial to the end-user now that replacement filters have been added.

The Smart Jet Pro features:
Low maintenance, oil-less single piston air compressor
Quiet running 1/8 HP induction motor
Airflow: 0.64 CFM (12 lpm) at open flow
Working pressure from 0 psi to 35 psi
Smart Technology automatic switching reduces running time and motor wear (30 psi on / 50 psi off)
Protective outer case
Cooling hose and moisture filter inside the case, which removes the moisture and prevents pulsing
Mounted pressure gauge
Air regulator for precise air pressure adjustment
Comes with a 3 meter (10') vinyl hose
One 1/4 BSP outlet
Built-in airbrush holder
On/off switch
Voltage: 220-240V 50Hz
Noise level: 50 decibels
Duty cycle: 60 minutes continuous use. Please allow the motor to rest for at least 20 minutes after each cycle of continuous use.

The Smart Jet Pro is suitable for most fine airbrushes including:

Neo for Iwata CN, BCN, TRN1, TRN2
Iwata Revolution BR, CR, SAR, BCR, TR1, TR2, M1, M2
Iwata Eclipse BCS, BS, CS, SBS, SA
Iwata HP
Iwata HP-Plus
Iwata Hi-Line
Iwata Custom Micron
Iwata Kustom series
Paasche CC
Paasche F
Paasche Talon
Paasche V
Paasche VJR
Paasche VSR90
Paasche VV
Badger 100
Badger 150 (except with HD head)
Badger 155 (except with HD head)
Badger 175 (except with HD head)
Badger 200 (except with HD head)
Premi Air G35
Asturo C3 (from 8 to 24 psi)
Sparmax SP35, SP35C, MAX-3, MAX-4, HB-040, SP-20X, DH-125
Sparmax GP-35, GP-50
If you require further advice on choosing the most suitable equipment for your needs and budget please contact us at info@neverboard.ie.

---